Columns of military vehicles including tanks and armoured personnel carriers have been seen on the outskirts of Donetsk, the capital of one of two breakaway regions of eastern Ukraine, according to a Reuters witness.
No insignia were visible, but the appearance of the vehicles came hours after Putin signed friendship treaties with the two separatist regions and ordered Russian troops to deploy on what Moscow called a peacekeeping operation.
Reuters reporters in Donetsk had not seen tanks on the streets in previous days.
Read live updates as Putin says Ukraine plans to create nuclear weapons
Video shot by Reuters at Makiivka, near Donetsk shows various military vehicles including APCs and trucks on the road.
It came as the United Nations Security Council met in New York to discuss the situation.
Barbara Woodward, the UK's ambassador to the UN, told members that Russia's actions would have "severe and far-reaching consequences" for human life, the territorial integrity of Ukraine, and for international law.
She said the UK would be announcing new sanctions on Russia, adding that there would be "severe economic consequences for its actions".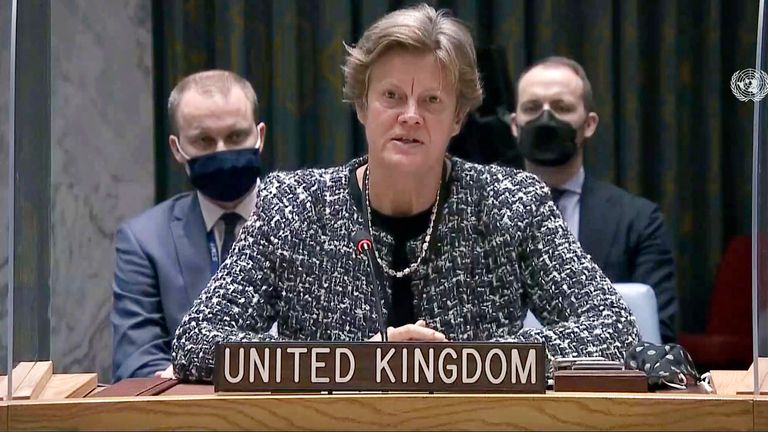 "Colleagues, now more than ever, the council must shoulder its responsibilities for peace and security and defend the principles of the UN charter.
"The council must be united in calling on Russia to de-escalate immediately and condemning aggression against a sovereign nation and defending the territorial integrity of Ukraine.
"Russia has brought us to the brink. We urge Russia to step back."
But Russia's Ambassador to the UN, Vassily Nebenzia – who is also the president of the council – described the speeches as "emotional" and a "direct verbal assault".
He said: "We remain open to diplomacy for a diplomatic solution, however, allowing a new bloodbath in the Donbas is something we do not intend to do.
He blamed Ukraine for using "bellicose rhetoric" and "doing everything it could to sabotage and destroy" the Minsk agreement "with the backing of our western colleagues".
He also noted the "extremely negative role played by our western colleagues, especially the US", who he accused of "egging Ukraine on".