At least 45 migrants have reportedly drowned after their boat broke up off the southern coast of Italy's mainland.
A ship carrying more than 120 migrants ran into trouble in rough seas at dawn on Sunday near the coastal town of Crotone, in Calabria, the Coast Guard said.
It said a total of 80 survivors have been recovered, some of whom managed to reach the shore after the shipwreck, while 45 bodies have been found along the coast.
A patrol boat recovered two men in a state of hypothermia along with the lifeless body of a child, the Coast Guard added.
Vessels from the coast guard, border police and firefighters were involved in rescue efforts.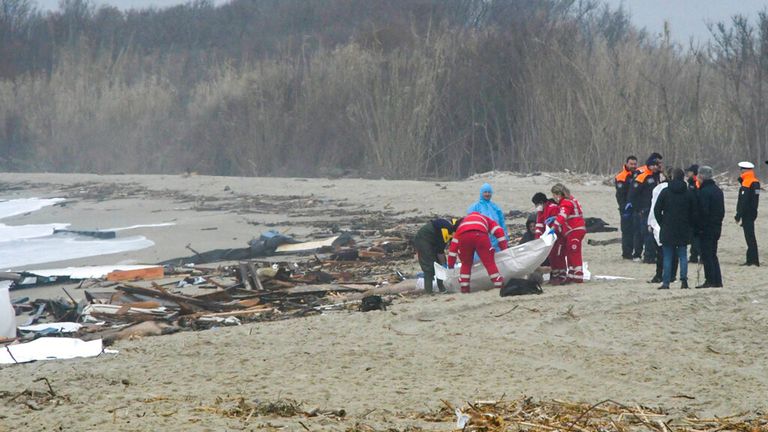 Vigili del Fuoco, Italy's institutional agency for fire and rescue service, said a boat of migrants ran aground off the seaside resort of Steccato di Cutro, in the province of Crotone.
Danilo Maida, a spokesman for the firefighters in the Calabria region, said firefighters are still looking for more survivors at sea, but conditions are harsh, which is making the search difficult.
The Coast Guard of Reggio said it is coordinating search and rescue activities at sea and has sent two patrol boats and a helicopter from the Catania Aircraft Base to look for survivors.
Read more on Sky News:
What is asked in the 20-day questionnaire asylum seekers must fill out under 'fast-track' plan?
Bodies of 18 migrants found in abandoned lorry on highway in Bulgaria
The boat, bringing migrants from Iran, Pakistan and Afghanistan, crashed against rocks during rough sea weather,
Adnkronos news agency said.
It has not been confirmed where the boat had set out from, but migrant vessels arriving in Calabria usually depart from Turkish or Egyptian shores.
Following the incident, Italian Prime Minister Giorgia Meloni expressed her "deep sorrow" for the victims and pledged to stop irregular sea migration so as to prevent more tragedies.
"The Prime Minister, Giorgia Meloni, expresses her deep sorrow for the many human lives cut short by human traffickers," a statement from her office said.
"The government is committed to preventing (migrant) departures, and with them the unfolding of these tragedies, and will continue to do so, first of all by demanding maximum collaboration from (migrants') countries of departure and of origin," the statement added.