One person has died and another is missing as a tropical storm brings "life-threatening" floods and record rainfall to Mexico and California.
Storm Hilary was previously classed as a Category 4 hurricane but weakened as it made landfall on the Mexican coast, from where it moved north to California and other states in the southeastern US.
At least nine million people in southern California are under flood warnings as they face "life-threatening" rain, mudslides, tornadoes, high winds and power outages.
Parts of California have been placed under a state of emergency by governor Gavin Newsom.
One person died in the storm in the Mexican state of Baja California, after the car they were in was swept away in an overflowing stream.
In the US, two people were rescued from the Santa Clara river in Ventura County, north of Los Angeles, while another remains unaccounted for, police say.
The National Weather Service (NWS) has urged people to stay indoors and off the roads in and around Los Angeles, warning of "hazardous" conditions as rain water continues to run off the hills.
There are also warnings of flash flooding, with the NWS saying people should move to higher ground in affected areas, calling the weather "life-threatening".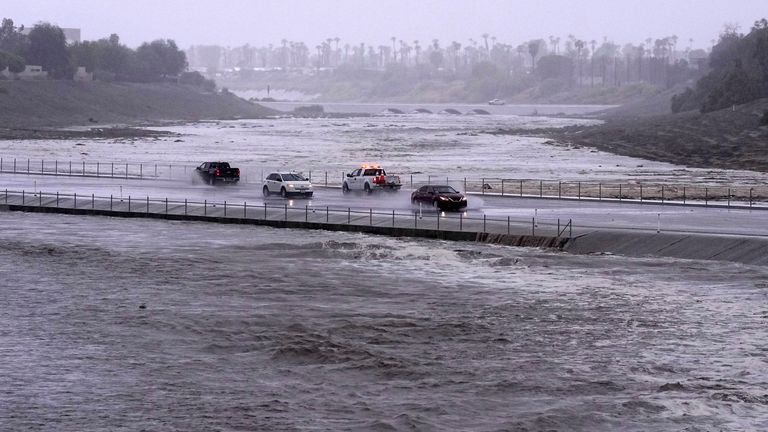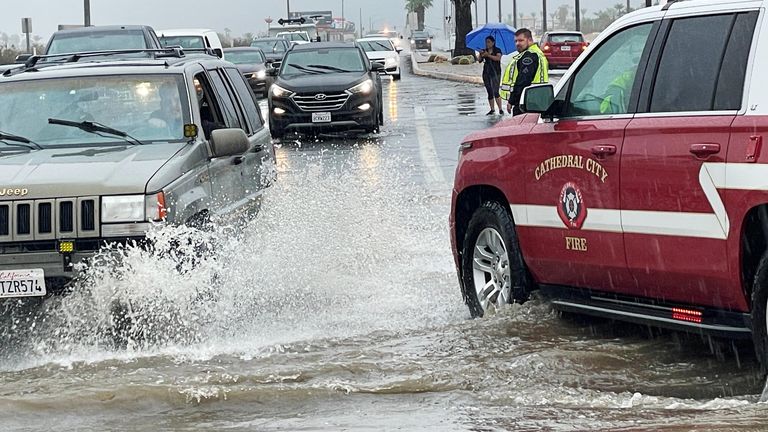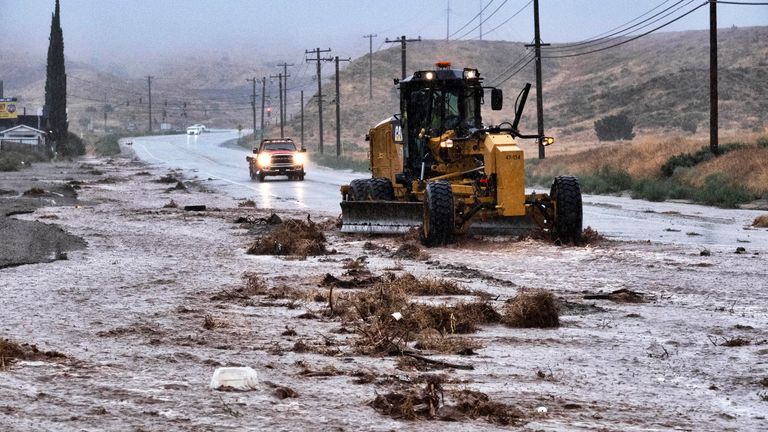 A number of rainfall records have been beaten in the state, with 1.53 inches recorded at the University of Southern California – up from 0.03 inches in 1906.
At Los Angeles International Airport, the previous 2022 record of "a trace" was well beaten overnight with 1.53 inches falling.
Usually a bustling tourist city – nobody was taking chances in Palm Springs during Storm Hilary
In Palm Springs, few will have ever experienced this.
The last time a tropical storm hit these sun-baked streets, or anywhere else in California, was 1939.
It is a novelty with which no one was taking chances, 84 years on.
In this city, 100 miles east of Los Angeles, the streets emptied as 63% of its annual rainfall fell in a single day.
It was an atypical August scene in a place that's normally crowded, a magnet for visitors from around the world.
Residents of this city once included the great and good of Hollywood.
It was a desert retreat for stars whose studio contracts dictated they had to be within two hours of the workplace in case of reshoots.
A 26-foot tall statue of Marilyn Monroe has been erected as an emblem of its showbiz cachet. This weekend Norma Jean stood alone, a candle in the wind, as Hilary blew though.
The people of Palm Springs had heeded the warnings of the authorities to stay indoors for fear of "catastrophic and life-threatening" conditions.
It was a day to hunker down across the Golden state, a place whose population is well-drilled in preparations for wildfires and earthquakes, but for whom wind and rainstorms present a rare and unpredictable threat.
Even as the worst of Storm Hilary passed, there is continuing concern about a lingering threat of mud slides. Desert ground on coastal hills and mountains don't absorb water well and there is a danger that rain will run off, causing a risk of flash floods to land and communities at lower level.
It's a danger that will continue long after Hilary has blown itself out.
Read more: Climate change is making hurricanes more frequent and severe, scientists believe
Elsewhere, Long Beach (1.56 inches), Hollywood Burbank (1.61 inches), Palmdale (2.95 inches), Lancaster (2.72 inches), Sandberg (1.52 inches), Oxnard (0.77 inches) and Santa Barbara airports (0.06 inches) also beat previous records.
As well as the downpour, an earthquake hit southern California close to Ojai, around 80 miles (130km) northwest of Los Angeles, registering a magnitude of 5.1, with local reports saying it was felt widely in the region.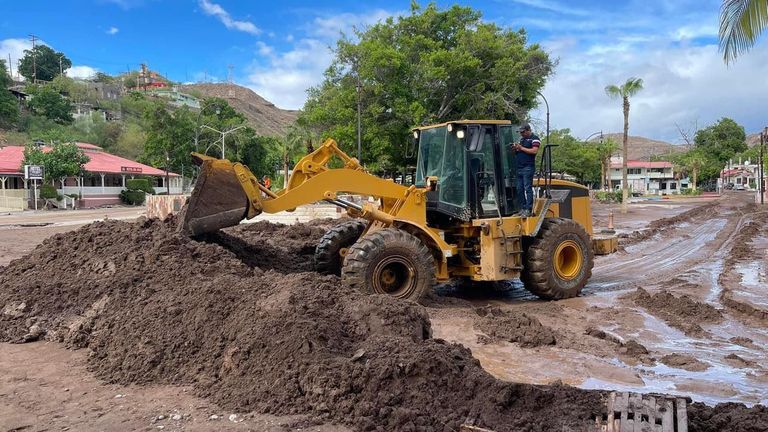 Hilary will likely weaken as it moves towards Nevada, however, though heavy rain will persist, with thousands of schools in the LA area closing.
Videos from transport and weather services posted on X, formerly known as Twitter, show deluges of rain water flowing down roads and tracks, carrying mud with it.