Grant Shapps has hinted at a change to plans for HS2, as the northern section of the rail project looks set to be scrapped.
Sky News understands the high-speed line planned between Birmingham and Manchester will be binned by the prime minister due to concerns over the cost of the much delayed project.
And it is still unclear if the final section between Old Oak Common in west London and the planned central destination in the capital at Euston will go ahead.
Politics Hub: Lib Dem leader faces questions live on Sky News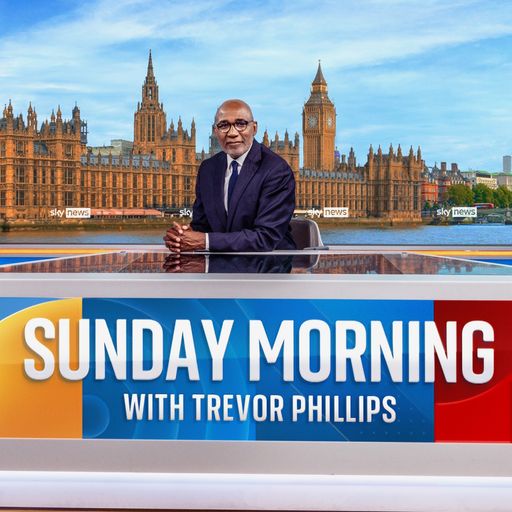 Sunday Morning with Trevor Phillips
Watch live each week on Sunday at 8:30am on Sky channel 501, Freeview 233, Virgin 602, the Sky News website and app or YouTube
Speaking to Sky News' Sunday Morning with Trevor Phillips show, Mr Shapps would not confirm the reports, but he suggested there could be a change to the "sequencing" and "pace" of HS2 from the government due to the soaring price tag.
"Money is not infinite," said the former transport secretary, who is now in charge of the Ministry of Defence.
"All of these big decisions where budgets are, particularly in the case of HS2, inexorably going higher and higher and higher, and your viewers are having to pay that bill, it is absolutely right that the government looks at it and says, hold on a minute, is this just a sort of open-ended cheque or are we going to make sure this project gets delivered to a pace and a timetable that actually works for the taxpayer?
"We take those long-term decisions seriously, but we don't think any amount of money, no matter how big the budget gets, that you should just carry on ploughing it in. There has a point where you say hold on a minute, let's just take a break here."
Mr Shapps also pointed to the impact of COVID and the Ukraine war on the public purse.
"The country has to respond to the circumstances," he said. "We did not know there would be coronavirus, a one in 100 year event… we didn't know there would be a war on in Europe… so of course, if circumstances change, you have to look at the sequencing of the big infrastructure cash that you spend.
"Any government that doesn't do that, any opposition that claims you don't need to is not fit to govern this country."
But the expected announcement was slammed by Labour's mayor of Greater Manchester, Andy Burnham, who said people in the north of England were "always treated as second class citizens when it comes to transport".
He told Sky News: "This was the parliament where they said they would level us up. If they leave a situation where the southern half of the country is connected by modern high speed lines and the north of England is left with Victorian infrastructure, that is a recipe for the north/south divide to become a north/south chasm over the rest of this century.
"That is why people here are fed up with false promises and also watching now what seems to be the desperate acts of a dying government. This is not right and not fair to people here who were given so many promises."
Mayor of Greater Manchester, Andy Burnham, attacked the decision to scrap the northern leg of the high speed rail line.

HS2 was first touted by Labour in 2009, but it was the coalition government that signed off the plan, designed to connected the South, Midlands and North of England with state of the art infrastructure.
Despite billions being poured into the project, it has been beset by delays and rising costs – with the eastern leg scrapped entirely and work between Birmingham and Crewe delayed due to the impact of inflation.
Some estimates have put the total cost at over £100bn, while the project has been rated "unachievable" by the infrastructure watchdog.
However, plans to scrap the northern leg have been criticised on all sides of the political spectrum.
Former Tory prime minister Boris Johnson called it "desperate" and "Treasury-driven nonsense", while one of his predecessors, David Cameron, is said to have privately cautioned against it, with an ally telling the Times that HS2 was "a totemic Conservative pledge".