The Liberal Democrats are calling for the government to scrap severance payments for senior figures who break the ministerial code.
Research carried out by the party showed a total of £530,000 had been given to ministers after they quit over a breach, despite some of them returning to government within weeks.
High profile resignations include former prime minister Liz Truss, who received £18,660 after her 49 days in office – which the Lib Dems calculated could cover the cost of more than 26,000 lettuces.
Another ex-PM, Boris Johnson, received the same pay out, while Kwasi Kwarteng was given £16,876 when he quit after less than six weeks as chancellor.
The current rules say ministers are entitled to receive severance payments worth a quarter of their salary when they leave office, as long as they are under 65 and are not reappointed within three weeks of their exit.
But at the Lib Dem party conference in Bournemouth on Monday, MP Wendy Chamberlain will outline her party's proposals to overhaul the system.
Read more:
Davey commits Lib Dems to pensions triple lock
Lib Dem women's group claims it has been banned from promoting event
As well as preventing MPs who have resigned for breaking the ministerial code from claiming the severance pay, the plan would also ensure ministers had to serve "for a reasonable period of time" before being entitled to the payout, and that they could not claim it if they are reappointed to government within a year.
Ms Chamberlain will say: "It's an outrage that while families struggle to pay their bills, Liz Truss, Boris Johnson and other disgraced Conservative ministers have profited from their own failure.
"The cost of Conservative chaos is piling up for families across the country. The British public will never forgive this shambolic Conservative government.
"Conservative ministers crashed the economy and then were rewarded for it. It is time to change the rules over ministerial severance pay for good to end these revolving door pay outs – enough is enough."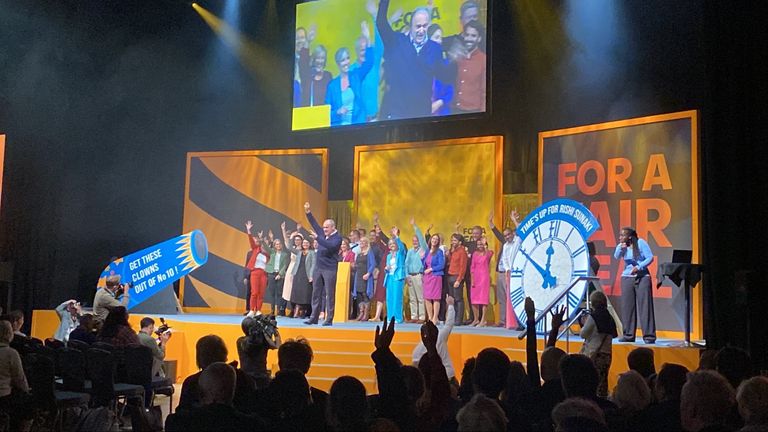 The party's research showed the Department for Levelling Up had given out the most in severance payments, totalling £77,654, followed by the Cabinet Office, which paid out £75,585, and the Home Office at £52,858.
A Conservative Party spokesperson said the plan was "exactly the kind of 'do as I say, not as I do' policy that the nation expects from the Lib Dems".
They said severance payments had been given out for several decades – including at the end of the coalition government – adding: "If their ministers were happy to accept payments then, they should pay them back to British taxpayer before attempting to score political points."
A government spokesperson said: "There are long-standing rules in place to determine what ministers are entitled to receive as severance pay.
"Under those rules, it is for ministers to decide whether they wish to accept it."