A medical student suspected of shooting dead three people in Rotterdam had a history of psychotic behaviour, according to prosecutors.
Although still investigating Thursday's deadly attack, the authorities confirmed they had previously warned the Erasmus University Medical Centre (EMC) about his worrying conduct.
And EMC chairman Stefan Sleijfer said this had been taken seriously and the suspect was denied a doctor's licence unless he underwent psychological evaluation and was declared fit to practice medicine.
Mr Sleijfer, who was dean of the faculty of medicine and health sciences, has said the shootings were probably linked to this examination, which was ongoing.
The 32-year-old has been named as Fouad L, with his surname not publishable under Dutch privacy laws.
He is due to appear before a judge on 3 October, the public prosecutor's office said.
He is being held on suspicion of killing a 39-year-old woman who lived near his home and her 14-year-old daughter, as well as a 43-year-old doctor who was teaching at the EMC, where the alleged attacker was a student.
The suspect is also believed to have started fires at both locations.
He was arrested a short time later by heavily armed police under the university hospital's helipad.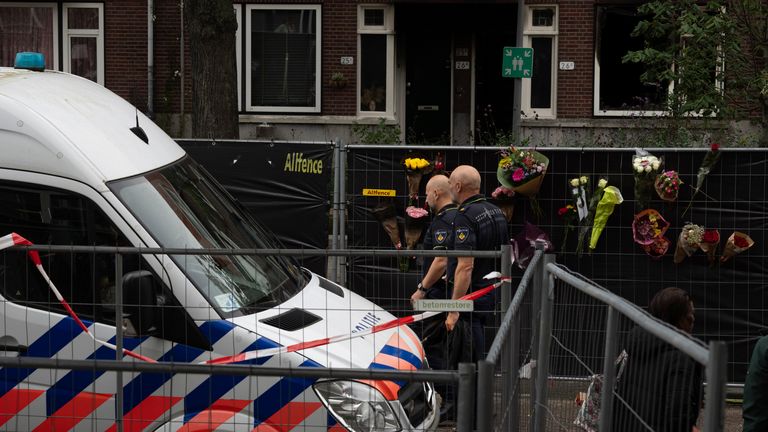 A letter has now emerged, previously sent by prosecutors to the EMC, that described the suspect as displaying "psychotic behaviour".
It also detailed his alcohol problems as well as complaints from neighbours over his treatment of animals for which he has an abuse conviction.
The letter stated: "I presume that the information above will contribute to the decision as to whether the person concerned should be eligible for a general doctor's diploma."
Three killed in Rotterdam shootings

Commenting on the correspondence, Mr Sleijfer said: "What happened was that we had previous signals from the police and they were asking us whether this person was fit and was suitable to become a medical doctor. And that was a signal that we took very seriously.
"Subsequently the student was assessed whether he, from a mental perspective, was fit enough to become a medical doctor. And that was a process that was ongoing.
"So probably there is a relationship with that and the reason why he committed this horrible thing."
Police chief Fred Westerbeke said: "We see his deed as a targeted action.
"But we need to investigate how and why."
The rampage, which caused scenes of panic at the hospital with students fleeing and patients wheeled out of the building in beds, has caused shock in the Netherlands where shootings are rare.
Media reported the youngest victim had a twin sister who survived unharmed, while the doctor who died is survived by a wife and child.