First presented in 1984, named after English painter J M W Turner, The Turner Prize is the art competition that introduced us to Tracey Emin's iconic bed, Damien Hurst's formaldehyde cow and calf and not forgetting Anthea Hamilton's giant bum.
Now the British art prize has arrived in the coastal town of Eastbourne this year with its shortlisted artists Barbara Walker, Jesse Darling, Ghislaine Leung and Rory Pilgrim exhibiting together at the Towner Gallery.
In its nearly 40 years, the Turner Prize has earned its place as one of Britain's most prestigious art competitions and while conceptual – and at times abstract – all the artists appear to comment on the social and political issues that define our culture today.
Barbara Walker's "Burden of Proof" presents large-scale monochrome portraits of people affected by the Windrush scandal where thousands of British citizens, mostly from the Caribbean, were wrongly detained, deported, or threatened with deportation, despite having the right to live in the UK.
Ghislaine Leung looks at the value of labour and being a mother while trying to work as an artist via a baby monitor broadcasting from the gallery's store, a water fountain, industrial ventilation pipes from a Dutch bar along with an assortment of miniature vacuum cleaners, washing machines and toy houses in a row.
Rory Pilgrim creates a metaphorical "raft", representing collective care within the community via video made of seven-song's narrated by residents of Barking and Dagenham in collaboration with Green Shoes Arts, a London organisation offering opportunities to disadvantaged and vulnerable young people and adults.
Jesse Darling explores nationhood, borders and boundaries via contorted pedestrian fencing, concrete bollards topped with barbed wire and lace.
In the centre of the space stands a maypole made of hazard tape wrapped around by the artist, technicians and gallery staff dancing around it.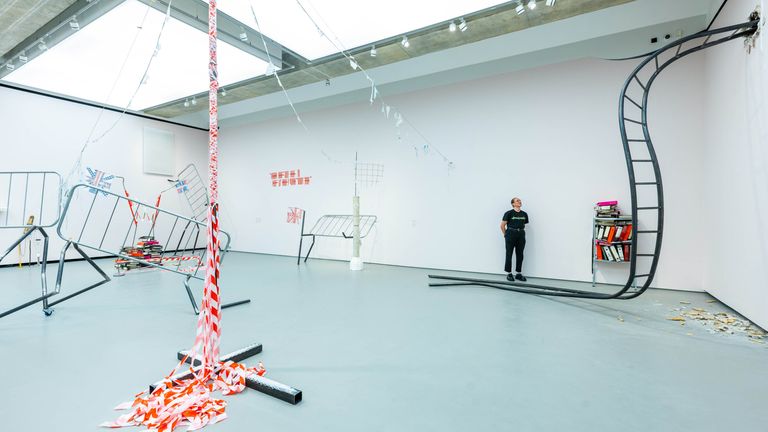 Speaking at the exhibition Noelle Collins, Turner Prize's 2023 curator, said the shortlist of artists are commenting on their industry as much as wider social issues.
"They're responding to maybe the political climate, also the environment or the topics that we talk about day-to-day and that we see in the news," she said.
"And we can read that in their works in this exhibition as well. It's kind of a snapshot of what is happening in British contemporary art."
Read more:
Turner Prize 2019 nominees share award
Banksy exhibition to be held in Glasgow
For Joe Hill, Towner gallery director, the shortlist of artists is calling for change.
"I think it's saying that there are lots of people in our communities that are underrepresented – are not being spoken about…," he said.
"I think all four of them are highlighting some of the structural inequalities that we're all experiencing within society.
"And there are real examples of working collaboratively with different groups to really bring out some of the stories that are quite often hidden."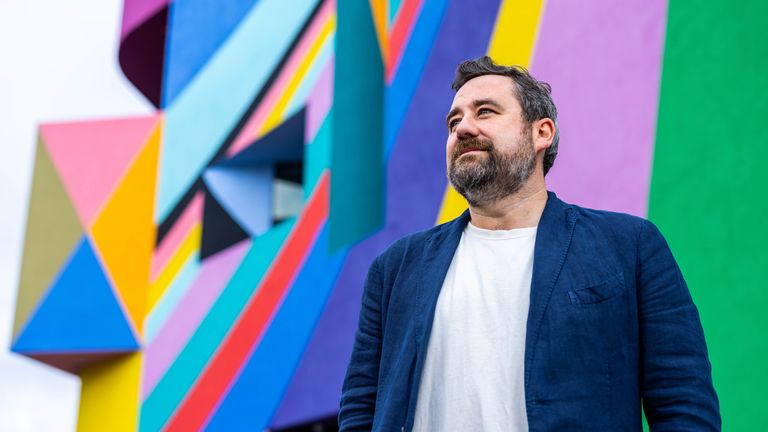 So, what do the locals make of it all?
Michelle 55, said: "It's a great thing for the community and for Eastbourne really – it's putting us on the map."
Peter Hammer, 75, said: "It's definitely not a priority for the people in the town I think…I think there's lots of things you could spend the money on that the general public would benefit from."
Meanwhile, 67-year-old Roger Taylor said: "It's not typical Eastbourne, but I am sure it will foster debate and make people think… like every year the Turner prize makes people think."
The winner of the 2023 Turner prize will be announced on 5 December, with the runners-up still collecting £10,000 each.
For now, the art competition is finding an unlikely home in the coastal town of Eastbourne, bringing politics to the promenade.
Turner Prize is on at Towner Eastbourne from 28 September 2023 to 14 April 2024.