NATO is beefing up its presence in Kosovo with UK troops, amid concerns about a build-up of Serbian forces along the border.
Hundreds of soldiers from the 1st Battalion of the Princess of Wales's Royal Regiment have now been made available to a peacekeeping force.
Tensions rose last weekend after a deadly siege at a monastery in northern Kosovo, with masked gunmen and local police engaging in a standoff.
Gunmen 'storm monastery' in Kosovo footage

The assailants barricaded themselves inside with priests and visiting pilgrims – and an officer was killed along with three of the gunmen in a 12-hour shootout.
It one of the worst incidents since Kosovo declared independence from Serbia in 2008, with the White House National Security Council claiming it was a "well-coordinated and planned" attack.
Kosovo's Prime Minister Albin Kurti has accused Serbia of orchestrating the attack – allegations that have been denied.
Mr Kurti has welcomed NATO's decision and claims last Sunday's attack suggests Serbia, which doesn't recognise Kosovo's sovereignty, wants to destabilise the country with Russia's help.
He said: "They are in search of a time machine. They want to turn the clock back by 30 years. But that is not going to happen."
Read more:
Why have tensions flared up?
Djokovic sends political message
May: Violent Kosovo clashes

US officials are monitoring a large deployment of Serbian troops along the border with Kosovo, with Mr Murti claiming "they have a lot of military equipment" from Russia and China.
Under the new arrangement, British troops are being placed under NATO's command "if needed, to address the current situation".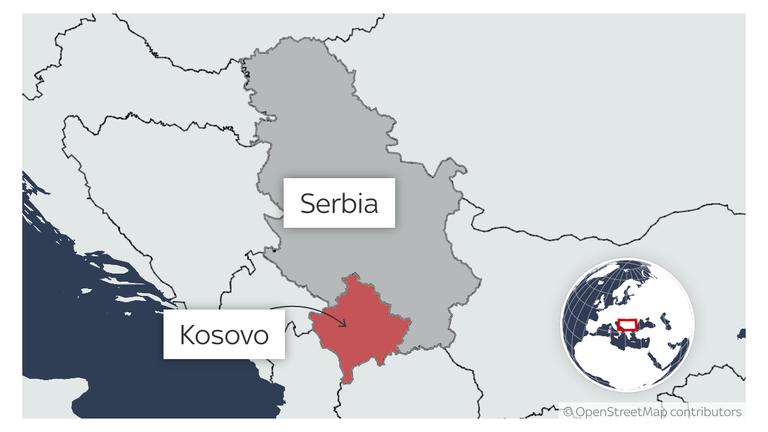 They will form part of the KFOR peacekeeping force, which consists of about 4,500 troops from about 27 NATO and partner countries.
There are fears in the West that Russia, acting through Serbia, may want to destabilise the Balkans and shift at least some of the attention from Moscow's full-scale invasion of Ukraine.