The health secretary is said to be "open to requests" for patients from other UK nations to be treated in England to help tackle waiting lists.
Steve Barclay has invited the health ministers for Scotland and Wales to discuss what can be learned from their varying approaches.
He suggested he would consider appeals for people who have been waiting a long time to come to England for treatment.
Health has been a devolved matter since 1999, with nations able to largely decide how to run their own systems.
Mr Barclay said he wanted to "share best practices, improve transparency and provide better accountability for patients".
He added: "This will help to ensure we are joined up when it comes to cutting waiting lists – one of the government's top five priorities – and will allow us to better work together to improve performance and get patients seen more quickly."
The Department of Health and Social Care (DHSC) said "significant variations" existed between waiting times.
"In Wales, more than 73,000 people are waiting over 77 weeks for treatment, and at least 21,600 people are waiting over 78 weeks for an outpatient, day case or inpatient appointment in Scotland," said the DHSC.
"In England, waiting times for patients over 78 weeks have been virtually eliminated."
Read more:
Number waiting to start treatment in England at record high
More patients to be able to skip waiting lists if they can travel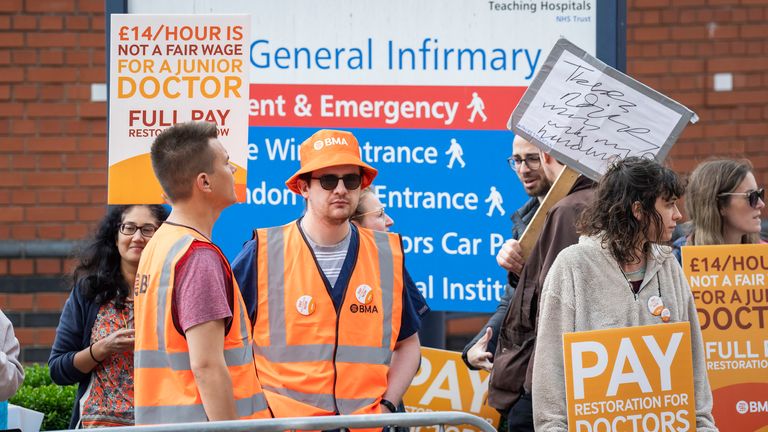 Mr Barclay's invitation for talks has not had an enthusiastic reception.
Scottish health secretary Michael Matheson suggested Westminster should concentrate on the "many issues south of the border", such as doctors' strikes.
A Welsh government spokesperson defended its record and said long waiting times had "more than halved in the past year" – and that its figures include more referrals.
They added: "The overall growth in waiting lists in Wales has been smaller in Wales than in England over the last 12 months – it grew by 3.6% in Wales and by 12.1% in England.
"Wales has also outperformed England in major emergency department performance in nine out of the last 10 months."
Labour's shadow health secretary Wes Streeting also hit out at Mr Barclay, saying: "The only advice the Tories are qualified to offer is how to wreck the NHS and cause the biggest strikes in its history."
Junior doctors began a fifth walkout on Friday – which is due to finish on Tuesday morning.
The government says 778,000 appointments have been disrupted during the strikes, but the British Medical Association says doctors have no choice due to dwindling pay.