Pubs in England and Wales will be allowed to continue serving takeaway pints after the government decided to keep COVID licensing rules.
Pubs were given permission to serve customers through hatches when they were forced to close during lockdown restrictions in 2020.
Those rules were due to expire at the end of next month, but Sky News understands the decision has been reversed after Rishi Sunak intervened on the matter.
According to The Sun newspaper, which first reported on the story, a Number 10 source said the prime minister had "listened to the industry and heard them loud and clear".
"Now is not the time to call last orders on takeaway pints and the boost to business that they bring," they said.
The decision means pubs will no longer need to apply for permission from their local council if they want to continue selling takeaway alcohol.
The Home Office said councils, drinks retailers and residents' groups had preferred a return to pre-COVID rules in justifying their initial decision.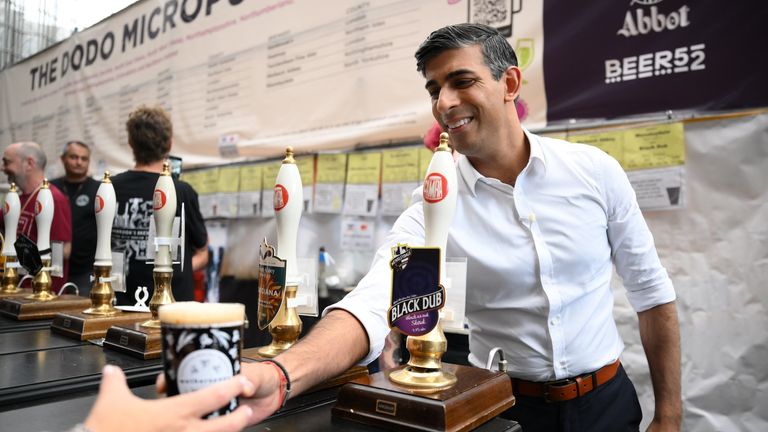 However, industry representatives said the decision would create more "unnecessary regulation" with no guarantee councils will approve applications for licence changes for individual premises.
The change has been welcomed by hospitality leaders.
Martin McTague, national chair of the Federation of Small Businesses, told the BBC the move would provide pubs with an "extra revenue stream to mitigate the rising costs".
Pubs have been struggling to recover from the pandemic amid a rise in energy prices.
Sunak heckled while pulling pint

Read More:
Running a pub 'is worse now than it was during COVID'
More than 150 pubs permanently close
The boost for business comes after Mr Sunak, who is teetotal, was heckled as he toured a London beer festival to mark alcohol duty reforms which he claimed are "backing British pubs".
The new system means alcohol will be taxed on strength rather than the previous categories of wine, beer, spirits and ciders.
It means some drinks, such as wine and gin, will be more expensive – though ministers say a so-called "Brexit pubs guarantee" will keep the levy on draught beer and cider up to 11p lower than shop-bought booze.