It will take at least two years – possibly more – to rid the Metropolitan Police of corrupt officers – with some of those facing criminal charges not set to go to trial before 2025, the force has said.
Over the same period it is planning to hold 60 hearings a month relating to misconduct or gross incompetence – a process which can result in officers losing their jobs.
"This is not about thousands of police officers and staff leaving this organisation, but there are undoubtedly hundreds of which there are real concerns about," said deputy assistant commissioner Stuart Cundy.
He added: "This is going to take one, two or more years to root out those who are corrupt."
In an update on the Met's work to drive up standards, DAC Cundy confirmed 201 of the force's approximately 34,000 officers are currently suspended from duties.
This is in addition to a further 860 officers whose duties are currently restricted.
DAC Cundy admitted the figures were "stark", adding: "That's over 1,000 police officers and… that's nearly the size of a small police force in other places in the country.
"It is a significant number, which is why the commissioner and I, and others, know we need to do things as quickly as we can."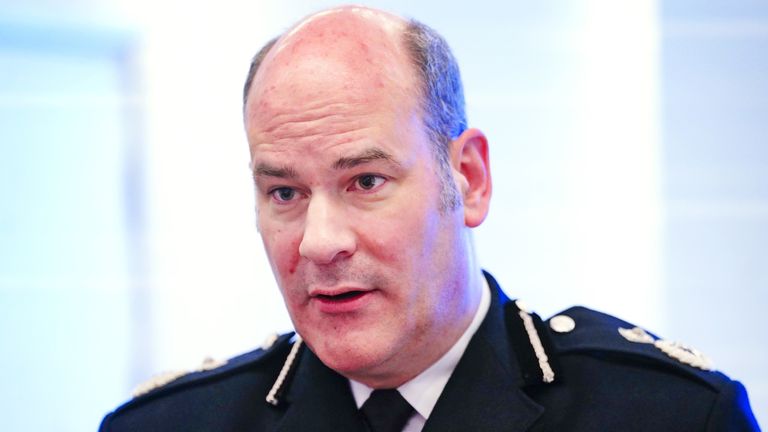 The update comes six months after a review by Baroness Louise Casey found the Met was institutionally racist, sexist and homophobic and could have more officers like killer Wayne Couzens and serial rapist David Carrick.
Baroness Casey also said its Parliamentary and Diplomatic Protection Command – in which Couzens and Carrick both previously served – was a "dark corner" of the Met and should be disbanded.
A review of the police squad – comprising around 1,000 officers – has now been completed, with the Met saying a third of its workforce had now been replaced.
Read more from Sky News:
Calls for Met to be abolished
Women arrested at vigil win payouts
How killer police officer Couzens was caught
Deputy assistant commissioner Laurence Taylor said the ambition was to have two-thirds of the unit made up of new staff by December 2025.
Meanwhile, officers will no longer be able to remain in the squad indefinitely, but will instead be rotated around to other parts of the Met every eight years.
Mr Taylor said unhealthy work cultures had developed in the unit, partly due to a lack of diversity, poor leadership and a sense of disconnection from the rest of the force.
'Met police should be abolished'

"The officers need to be better supervised, they need to be better trained, and they need to be better equipped," he added.
The Met also revealed 100 officers have been sacked for gross misconduct in the past year, up by 66% on the normal rate.
Meanwhile, 275 officers are awaiting a gross misconduct hearing, a significant proportion of which involved alleged violence against women and girls, compared to 136 last year.