The Metropolitan Police officer who shot dead Chris Kaba will face a murder charge, the Crown Prosecution Service has said.
Mr Kaba, 24, died the day after he was hit by a single gunshot from a police firearms officer in Streatham Hill on 5 September last year.
The car he was driving was followed through south London by an unmarked police car with no lights or sirens.
He then turned into Kirkstall Gardens, a narrow residential street, where there was a collision between the vehicle he was in and a marked police car that was waiting for him at the scene.
The officer who was in that marked vehicle – referred to as NX121 for legal reasons – fired one shot through the windscreen, hitting Mr Kaba in the head.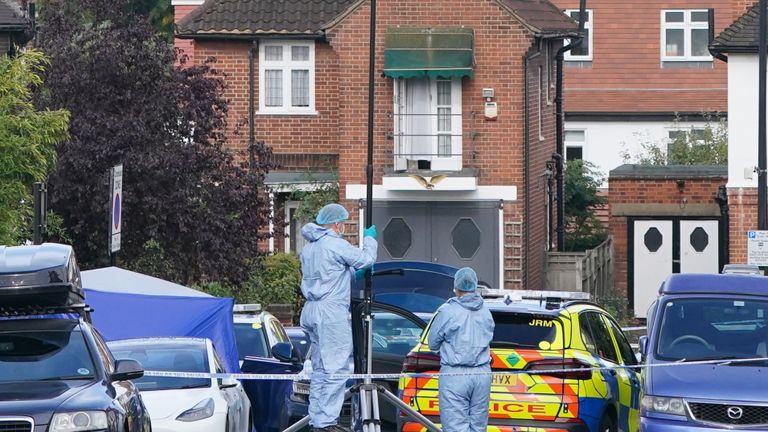 It later emerged that the Audi Mr Kaba was driving – which did not belong to him – had been linked by police to a firearms incident the previous day.
The Independent Office for Police Conduct (IOPC) opened an investigation into the case, which lasted nearly seven months, before handing over a file of evidence to the Crown Prosecution Service (CPS) in March.
The officer will appear before Westminster Magistrates' Court on Thursday.
Read more:
Chris Kaba 'was set to become father'
Family: 'Life became meaningless' after shooting
Rosemary Ainslie, head of the CPS Special Crime Division, said: "Following a thorough review of the evidence provided by the IOPC, the CPS has authorised a charge of murder against a Metropolitan Police officer following the death of Chris Kaba.
"The CPS reminds all concerned that criminal proceedings against the officer are active and that he has the right to a fair trial.
"It is extremely important there should be no reporting, commentary or sharing of information online which could in any way prejudice these proceedings."
In a joint statement, the family of Mr Kaba said they "welcomed" the charging decision.
"Chris was so very loved by our family and all his friends," the family said.
"He had a bright future ahead of him, but his life was cut short. Our family and our wider community must see justice for Chris."
Deputy Assistant Commissioner Helen Millichap, of the Metropolitan Police, described the announcement as a "significant and serious development".
"We have fully supported the IOPC investigation as it has worked to establish the facts," she said.
"We must now allow the court process to run its course, so it would not be appropriate for me to say more at this stage."
The Metropolitan Police said the officer remains suspended from duty and that any misconduct matters would be dealt with after the conclusion of criminal proceedings.
The force also said it would not release the name or age of the officer due to an anticipated anonymity request expected to be put forward on behalf of the defendant.