Rupert Murdoch is stepping down as chair of Fox and News Corp.
His son Lachlan will become the sole chair of News Corp – and continue as executive chair and CEO of Fox Corporation.
In an announcement, Lachlan congratulated his father on a "remarkable 70-year career" – and said the 92-year-old will continue to provide "valued counsel" in a new role as chairman emeritus.
"We thank him for his vision, his pioneering spirit, his steadfast determination, and the enduring legacy he leaves to the companies he founded and countless people he has impacted," he added.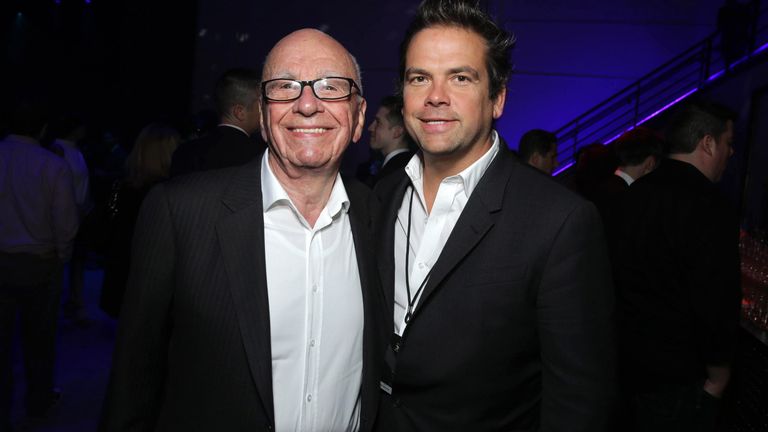 Writing to his colleagues, Mr Murdoch said it is the right time for him to take on different roles – adding that he remains in "robust health".
He added: "We have every reason to be optimistic about the coming years – I certainly am, and plan to be here to participate in them. But the battle for freedom of speech and, ultimately, the freedom of thought, has never been more intense."
Mr Murdoch also vowed that he will be "watching our broadcasts with a critical eye, reading our newspapers and websites and books with much interest, and reaching out to you with thoughts, ideas and advice".
News Corp owns well-known newspapers including The Sun, The Times and The Wall Street Journal – as well as the book publishing giant HarperCollins.
Fox Corporation's main assets include the Fox News Channel, and a broadcasting empire throughout the US.
At the end of 2018, Fox's film entertainment assets were sold to Disney – and his company's 39% stake in Sky, the owner of Sky News, was sold to Comcast.
Sky's business presenter Ian King said: "This is a handing over of the reins by Rupert Murdoch to his eldest son. Who would succeed Mr Murdoch has long been a source of great speculation – his other son James was seen as a contender for that some time ago."
Mr Murdoch's resignation marks the end of one of the most storied careers in modern media – with the entrepreneur transforming a small Australian newspaper business into a sprawling corporate empire.
But in recent years, Fox News has faced fierce criticism for pushing conspiracy theories and falsehoods – and airing baseless claims of voter fraud after Donald Trump lost the 2020 election.
That culminated in a high-profile defamation trial, with Fox Corporation ordered to pay $787.5m (£641m) to the voting machine firm Dominion.