The Bank of England has warned against complacency after its interest rate was frozen at 5.25%.
Governor Andrew Bailey said he is determined to bring inflation back down to the target level of 2% – but with current rates at 6.7%, he added that "the job isn't done yet".
And amid speculation that the Bank's base rate could now be close to peaking, he warned: "I can tell you we have not had any discussion on the Monetary Policy Committee about reducing rates because that would be very, very premature."
Reaction to BoE's decision – latest updates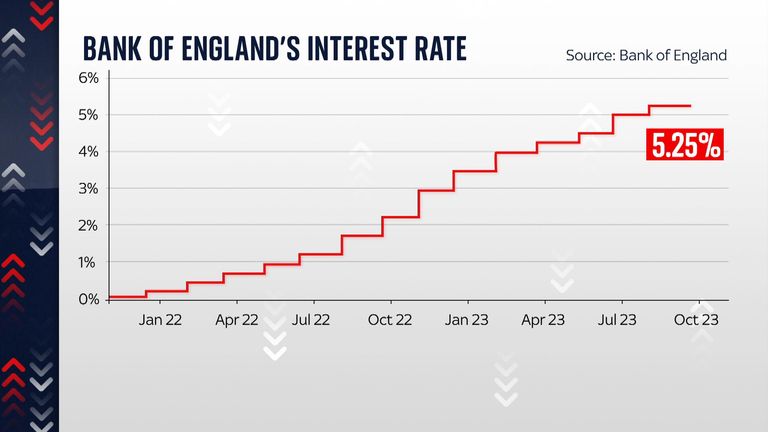 The decision to leave the interest rate unchanged came a day after inflation unexpectedly fell by more than expected – ending the longest successive period of "tightening".
Before now, the Bank had raised rates 14 times in a row – and the last time they were left unchanged was in November 2021.
The Monetary Policy Committee's latest vote was a narrow one – and while five members had voted in favour of a freeze, four had felt rates should rise further to 5.5%.
On Wednesday, the US Federal Reserve had also opted to hold its interest rate steady – but crucially, both central banks are reserving the right to enforce further hikes in the future.
As the City of London digested the BoE's decision, the pound fell to its lowest level since March – with British stocks outperforming the wider market.
Analysis: This freeze will still be painful
It is arguably the most exciting non-event in recent economic history.
Today, for the first time since late 2021, the Bank of England voted to leave borrowing costs unchanged.
Now in some senses, this is indeed a non-event. Interest rates are no higher than they were yesterday, but the cost of borrowing remains painfully high for many households.
Those due to refinance their mortgages in the coming months will still see a sharp increase in their rates compared with two or five years ago. The cost of living crisis is still with us.
Ultimately, analysts are warning that homeowners – already grappling with surging mortgage costs – might not be out of the woods yet.
Santander's UK chief economist Frances Haque said: "The question now is firmly centred on whether this pause will remain or if another rate rise will be needed in November, only time and further economic data will tell."
Despite Governor Bailey expressing caution, Samuel Tombs of Pantheon Macroeconomics believes the Bank "probably is done" hiking for now – and 5.25% will represent the peak in this cycle.
And when it comes to when the interest rate will start being cut, ING economist James Smith predicted that reductions could begin in the middle of next year.
"Ultimately the UK economy can't sustain rates above 5% indefinitely, and we think something closer to 3% is a more likely medium-term level," he explained.