Israel's Prime Minister Benjamin Netanyahu has told the United Nations General Assembly that his country is on the cusp of a historic peace deal with Saudi Arabia and an agreement would create a "new Middle East".
Speaking in New York on Friday afternoon, Mr Netanyahu invoked the 2021 Abraham Accords that saw Israel normalise relations with the UAE, Bahrain, Morocco and Sudan, and said that a deal with Saudi Arabia would be even greater.
"The Abraham Accords ushered in another dramatic change. It brought Arabs and Jews closer together," he said.
"There is no question the Abraham Accords heralded the dawn of a new age of peace.
"But I believe we are at the cusp of an even more dramatic breakthrough and historic peace between Israel and Saudi Arabia."
Provoking memories of his 2012 speech, when he drew a red line over a diagram of a nuclear bomb, Mr Netanyahu again used visual aids during the speech – this time a map labelled The New Middle East to demonstrate the benefits that a deal might deliver.
"The blessing of a new Middle East between Israel, Saudi Arabia and other neighbours will not only bring down barriers between Israel and our neighbours.
"We will build a new corridor of peace and prosperity that connects Asia through the UAE, Saudi Arabia, Jordan, Israel to Europe.
"Just as we achieved the Abraham Accords under the leadership of President Trump, I truly believe we can achieve peace with Saudi Arabia under the leadership of President Biden."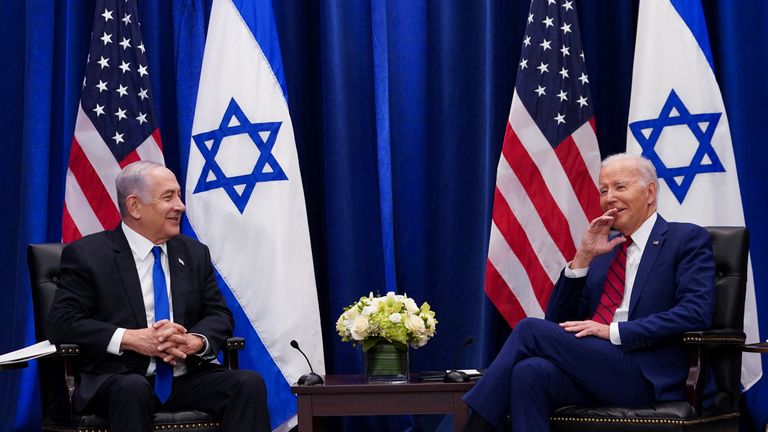 However, there was no mention of Palestine on the map and only a brief, dismissive mention when addressing a possible Saudi peace deal.
"The Palestinians must not be given a veto on peace in the Middle East," he said.
"They are only 2% of the Arab world, and when they see it has reconciled with Israel, there will be an opportunity for them as well."
Pressure to not make concessions for Palestinians
Mr Netanyahu has long believed he can force Palestinians to make peace with Israel by making peace deals with other Arab states, thereby isolating the Palestinians.
Senior members of his current right-wing have openly said they will reject any deal if it involves significant concessions to the Palestinians, however, Saudi Arabia and the United States have made it a central condition to any deal, with Saudi Crown Prince Mohammed bin Salman telling US television this week: "For us, the Palestinian issue is very important. We need to solve that part.
"We've got to see where we go. We hope that will reach a place, that it will ease the life of the Palestinians, and get Israel as a player in the Middle East."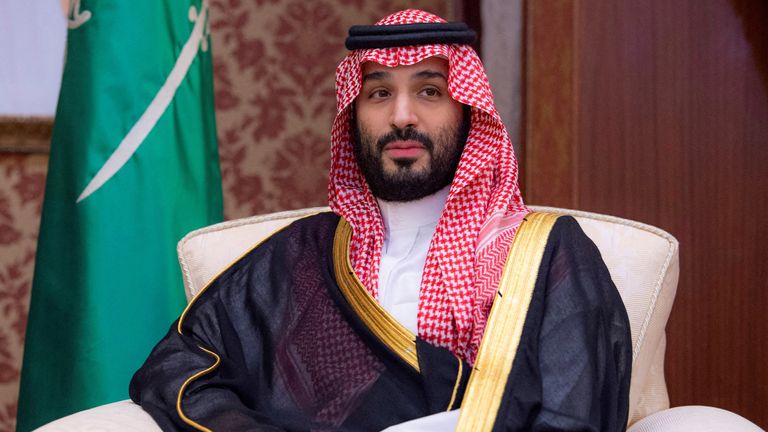 As is traditional when he addresses the annual diplomatic gathering, Mr Netanyahu also spoke at length about the threat posed from Iran.
"Eight years ago, the western powers promised that if Iran violated the nuclear deal, the sanctions would be snapped back. Well Iran is violating the deal, but the sanctions have not been snapped back. This policy must change.
"Iran must face a credible threat. As long as I'm prime minister of Israel, I will do everything in my power to prevent Iran from getting a nuclear weapon."
Read more from Sky News:
Is an Israeli-Saudi peace deal a growing prospect?
Analysis: Two-state solution seems like distant dream
The Iran delegation was notably absent from the chamber.
Although diplomacy towards an Israeli-Saudi deal has been gathering pace over recent months, it has been notable how open and optimistic the US, Saudi and Israeli leaders have been over the past week in New York.
Although the will to finalise a deal appears to be evident on all sides, there remain significant hurdles to overcome.
Aside from the Palestinian issue and how Mr Netanyahu navigates his government on that, President Biden will have to push hard to get the deal through the US Congress, where many are hostile towards Saudi Arabia on account of the Kingdom's human rights record.