Rishi Sunak's popularity has plunged to its lowest point since taking office following his watering down of key climate pledges.
The prime minister's net favourability rating has slumped to -45, according to a YouGov survey carried out days after his speech rowing back on net zero pledges.
The poll of more than 2,000 adults between 21 and 22 September showed the majority of Britons have an unfavourable view of Mr Sunak, rising from 67% in late August to 68%.
Politics Live: Keir Starmer gives first response after EU comments revealed
Just 23% said they had a positive view of the prime minister, down from 26% over the summer, when his net favourability rating was -41.
While Mr Sunak may have been hoping to receive some benefit from his net zero U-turn – which he claimed would save families money – his reputation among Tory voters remains effectively unchanged (they continue to be divided on the party leader, by 48% to 47%) as well as with Labour voters (who continue to overwhelmingly dislike him, at 90%).
However, his popularity has particularly taken a hit among Lib Dems voters, with just 12% saying they have a favourable view – a drop of more than half since late August, when the figure was 25%.
Sunak 'playing politics' on climate?

Starmer's favourability also drops
Mr Sunak's unpopularity has not benefited Labour leader Sir Keir Starmer though, with 30% having a favourable view of him, a fall from 35% at the end of August.
A separate poll by IPSOS showed two-thirds of the public did not think the UK would meet its commitment to reach net zero by 2050, even before Mr Sunak made a raft of changes on how to get there.
Following the announcement, 48% said they were now even less confident the target would be met.
Those polled, however, were almost evenly split on whether they thought Mr Sunak had made the right decision on net zero with 47% saying he had and 46% saying he hadn't.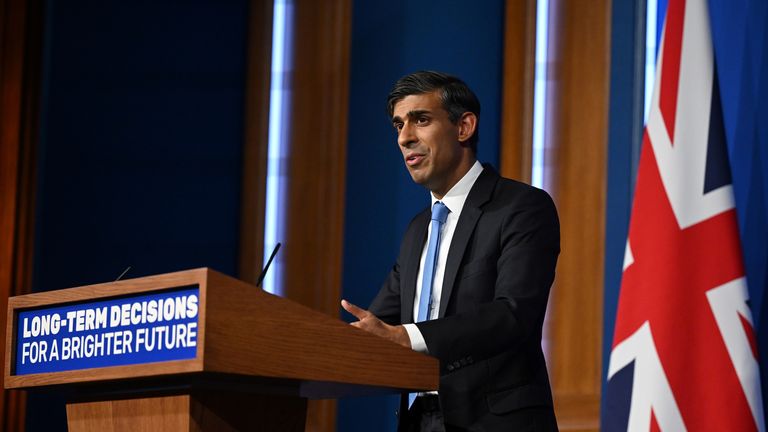 Sunak 'facing balancing act'
Gideon Skinner, head of UK politics at Ipsos, said this shows Mr Sunak is "facing a balancing act" to convince the public "he is still taking climate change seriously while also addressing concerns about the cost of living".
In a speech from Downing Street on Wednesday, Mr Sunak insisted he was still committed to the legal target of reaching net zero by 2050, despite pushing back the deadline for phasing out gas boilers and petrol cars, while scrapping energy efficiency targets for landlords.
He said the policies risked adding extra costs onto individuals and his changes meant meeting net zero in a "pragmatic" way.
However, environment groups and industry leaders accused him of making a "false argument" saying green energy is cheaper for households and will boost jobs and investment.
Read more:
Will the net zero policy delays affect me?
What progress is PM making on his five goals?
Click to subscribe to the Sky News Daily wherever you get your podcasts
The government's Climate Change Committee also said it was "wishful thinking" to say the UK is still on the path to reaching net zero by the 2050 deadline.
Tory MPs are split, with some seeing scrapping expensive green policies as a vote winner and those on the environmental wing worried about the impact on investment and the UK's international reputation on climate policies.
Although Mr Sunak denied acting politically, the policy shift has been seen as part of a broader attempt to create dividing lines with Labour ahead of the next general election.
The Tories' annual party conference slogan is "long-term decisions for a brighter future" – giving a flavour of what is to come.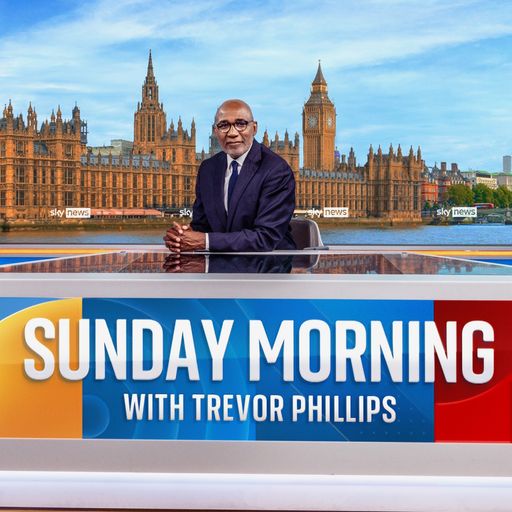 Sunday Morning with Trevor Phillips
Watch live each week on Sunday at 8:30am on Sky channel 501, Freeview 233, Virgin 602, the Sky News website and app or YouTube.
Since the net zero announcement, it has been reported that Mr Sunak wants to shift towards a baccalaureate exam system for A-Level pupils and ban smoking for the next generation – though the latter is something Labour has also said it will look at.
On net zero, Labour has said it will reverse the delay to the petrol cars ban and will set out its position on gas boilers in due course.