Scrapping the HS2 rail line to Manchester would be a "gross act of vandalism", senior Tories have warned Rishi Sunak.
Former chancellor George Osborne and ex-deputy prime minister Lord Heseltine said the move would mean "abandoning" the North and Midlands.
Writing in The Times, they warned the prime minister: "Governments are remembered for what they build and create.
"Make this mistake and yours may only be known for what it cancelled and curtailed."
If the northern section was cancelled "the remaining stump, little more than a shuttle service from Birmingham to a London suburb, would become an international symbol of our decline", they said.
Read more:
HS2 explained: What is it and why are parts being delayed?
Why are so many people upset with HS2 rail project?
"The government should examine why other European countries have been able to build high-speed rail more cheaply, and bring the same review of planning for big energy infrastructure to transport projects that it is promising.
"That's a sensible serious way forward; not the gross act of vandalism that cancelling HS2 would represent."
It comes amid suggestions Mr Sunak is considering whether to scrap or delay the leg of HS2 from Birmingham to Manchester in response to soaring costs.
And it is still unclear if the final section between Old Oak Common in west London and the planned central destination in the capital at Euston will go ahead.
Grant Shapps hints at change to HS2

Cabinet minister Grant Shapps told Sky News' Sunday Morning with Trevor Phillips show there could be a change to the "sequencing" and "pace" of HS2 from the government due to the soaring price tag.
"Money is not infinite," said the former transport secretary, who is now in charge of the Ministry of Defence.
"All of these big decisions where budgets are, particularly in the case of HS2, inexorably going higher and higher and higher, and your viewers are having to pay that bill, it is absolutely right that the government looks at it and says: hold on a minute, is this just a sort of open-ended cheque or are we going to make sure this project gets delivered to a pace and a timetable that actually works for the taxpayer?
"We take those long-term decisions seriously, but we don't think any amount of money, no matter how big the budget gets, that you should just carry on ploughing it in. There has to be a point where you say, hold on a minute, let's just take a break here."
HS2 was first touted by Labour in 2009, but it was the coalition government that signed off the plan, designed to connected the South, Midlands and North of England with state-of-the-art infrastructure.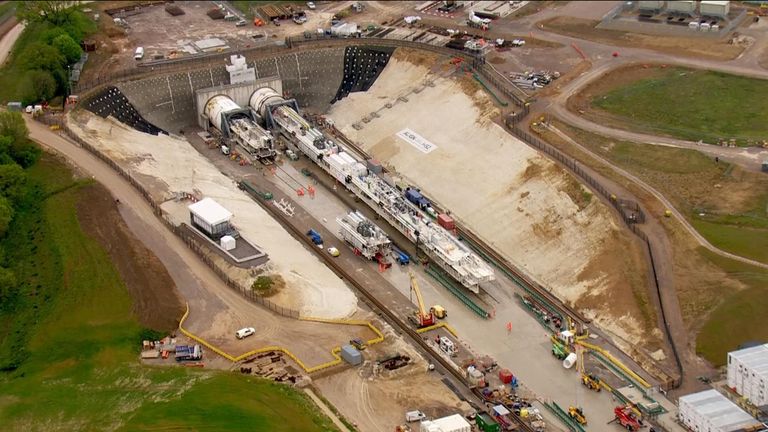 Despite billions being poured into the project it has been beset by delays and rising costs – with the eastern leg scrapped entirely and work between Birmingham and Crewe delayed due to the impact of inflation.
Some estimates have put the total cost at over £100bn, while the project has been rated "unachievable" by the infrastructure watchdog.
However, plans to scrap the northern leg have been criticised on all sides of the political spectrum.