Workplace absences have hit their highest level in over a decade, according to a report which is urging employers to take health more seriously if they want to retain staff.
The Chartered Institute for Personnel and Development (CIPD) said that analysis of data from over 900 companies employing 6.5 million staff found an average 7.8 absence days per employee over the past year.
That was up a whole two days per person compared to pre-pandemic levels.
While minor illnesses were the main factor behind short-term absences, stress was also high on the list – with work-related and cost of living pressures among the reasons.
The report said 76% of respondents had been off work due to stress over the past year, adding that it was also a top cause of longer-term absences.
Mental health was blamed for 63% of long-term absences.
The human resources body said just over a third of organisations had reported that COVID-19 remained a significant cause of short-term absence.
The findings chime with official figures showing long-term sickness running at a record rate.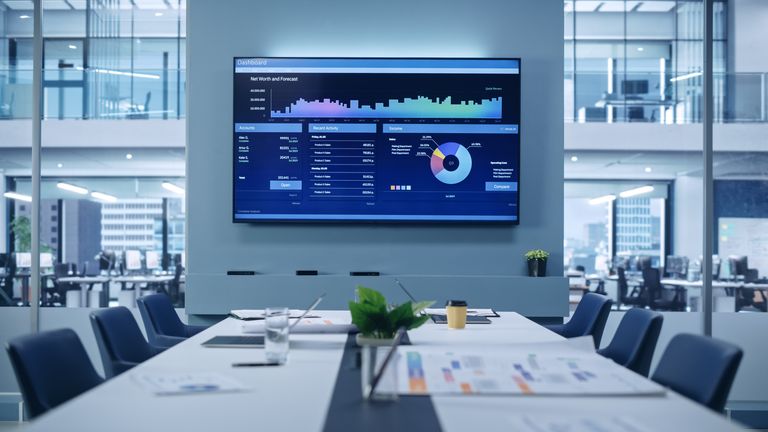 The Office for National Statistics (ONS) said earlier this month that more than 2.6 million people do not have jobs due to their health.
It reported that the list had grown by 464,225 over the three months from April to June, compared to the same period last year.
At the same time, a report on the issue by the Institute for Public Policy Research (IPPR) described the growing numbers as a "serious fiscal threat" to the UK.
The think tank said long NHS waiting lists were a contributing factor – in the cost to the taxpayer as well as people's declining health.
The absence report, supported by health plan provider Simplyhealth, showed that a variety of workplace support schemes were on the rise but many lacked flexible working options and health services.
The study's authors suggested it was vital that companies, many desperate to retain staff amid current labour shortages, raise their game.
Rachel Suff, senior employee wellbeing adviser at the CIPD, said: "External factors like the COVID-19 pandemic and the cost-of-living crisis have had profound impacts on many people's wellbeing.
"It's good to see that slightly more organisations are approaching health and wellbeing through a stand-alone strategy.
"However, we need a more systematic and preventative approach to workplace health.
"This means managing the main risks to people's health from work to prevent stress as well as early intervention to prevent health issues from escalating where possible."
Read more
Call for more help to get millions of long-term sick back into employment
One in five adults in England will be living with major diseases by 2040
Claudia Nicholls, chief customer officer at Simplyhealth said: "With record numbers of people off sick, employers have a vital role to play in supporting them through workplace health and wellbeing services.
"They can have a positive impact on the economy and ease pressure on the NHS.
"Despite an increasing number of workplace health and wellbeing services being put in place, employees are experiencing increasing mental health issues and the highest rate of sickness absence in a decade.
"However, focusing on fixing sickness alone is unlikely to uncover areas where any significant improvements can be made; companies need to implement preventative health and wellbeing strategies that are supported by the most senior levels of leadership and build line manager skills and confidence to support wellbeing."