A Texan couple have been arrested after allegedly selling a margay and attempting to sell a jaguar cub in the first case filed under The Big Cat Act.
Neither Rafael Gutierrez-Galvan, 29, or his wife Deyanira Garza, 28, who are both from Alamo, have a license to buy, sell, trade or transport exotic animals.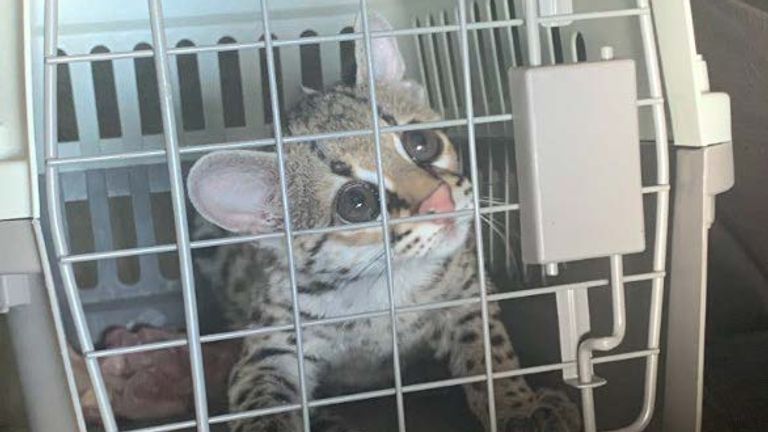 They made their first appearances in federal court in McAllen on Wednesday, the day after the attempted jaguar sale is said to have taken place.
Gutierrez-Galvan is accused of selling a margay cub to the same man for $7,500 (£6,150) in a sports store car park the previous month.
The man allegedly instructed his wife to bring a case of cash from their home to the car park, but law enforcement conducted a traffic stop before she could arrive and discovered the money.
A margay is a small wild cat native to Central and South America, and is considered "near threatened", according to international charity World Animal Protection.
Jaguars are both protected wildlife, and also listed as an endangered species.
Both animals have been safely recovered by authorities.
Read more from Sky News:
Zoo welcomes 'bold and beautiful' rare black jaguar
Plane crashes into roof of Texas home
The Big Cat Public Safety Act was introduced in December 2022, with the aim of ending private ownership of big cats as pets and prohibiting exhibitors from allowing public contact with big cats, including cubs.
In 2020, Netflix hit Tiger King shone a light on the exploitation of big cats in captivity in the US, and the use of cubs as lucrative family entertainment.
The star of the show, Joe Exotic, is now serving a 21-year sentence in prison on a murder-for-hire charge against animal welfare activist Carole Baskin, who also appeared in the show.
If convicted, Gutierrez-Galvan and Garza face up to five years in federal prison and a possible fine of up to $20,000 (£16,400).