Chancellor Jeremy Hunt will reiterate the government's commitments to make benefits sanctions harsher in a speech today – while also committing to raising the national living wage above £11 an hour.
Mr Hunt's intervention comes around six weeks ahead of his autumn financial statement.
While not as tumultuous as his predecessor's party conference speech last year – where Kwasi Kwarteng had to admit his party was U-turning on a key part of his mini-budget – Mr Hunt is still under pressure.
Tory conference live: Party chair makes admission about next election
Many voices within the Conservative Party want him to cut taxes, including cabinet ministers.
Speaking to Sky News' Sunday Morning with Trevor Phillips, Levelling Up Secretary Michael Gove said he would "like to see the tax burden reduced by the next election".
Mr Hunt on Saturday said the government was "not in a position to talk about tax cuts at all" – but all bets are off when it comes to party conferences.
The government has been eyeing welfare changes as a way to cut down on spending, and also encouraging people back into work in a bid to grow the economy.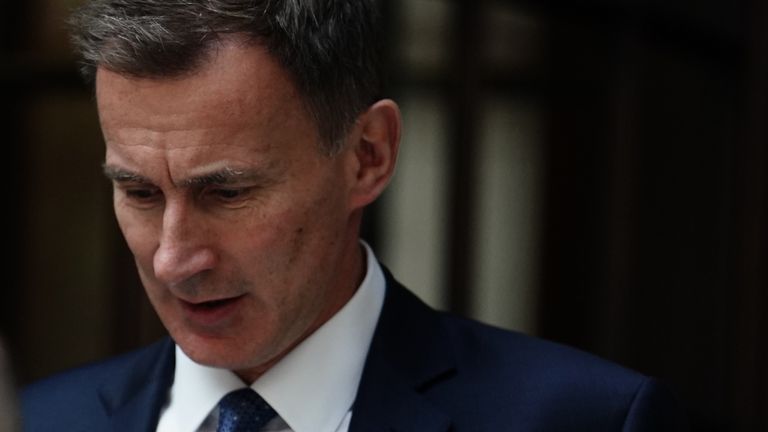 Mr Hunt will tell the party membership in Manchester: "Since the pandemic, things have being going in the wrong direction. Whilst companies struggle to find workers, around 100,000 people are leaving the labour force every year for a life on benefits.
"As part of that, we will look at the way the sanctions regime works. It is a fundamental matter of fairness. Those who won't even look for work do not deserve the same benefits as people trying hard to do the right thing."
Read more:
Gove calls for tax cuts ahead of next election
Sunak and Johnson overseen largest tax rises since WW2
Government divided over tax


A party spokesman said: "To ensure work always pays, the chancellor will also confirm that he and Work and Pensions Secretary Mel Stride will look again at the benefit sanctions regime to make it harder for people to claim benefits while refusing to take active steps to move into work.
"Proposals will be set out in the upcoming autumn statement."
Speaking last month, Mr Stride said that he was consulting on changes to the Work Capability Assessment, the test aimed at establishing how much a disability or illness limits someone's ability to work.
Raising the living wage
On the national living wage, Mr Hunt will say the government is going to accept the Low Pay Commission's recommendation to rise the baseline to at least £11 an hour from April 2024.
Resisting sizeable pay increases in the public sector has been part of the government's strategy to keep spending and inflation under control
Tories tight-lipped on tax cut prospects

Mr Hunt will say: "Today I want to complete another great Conservative reform, the National Living Wage.
"Since we introduced it, nearly two million people have been lifted from absolute poverty.
"That's the Conservative way of improving the lives of working people. Boosting pay, cutting tax.
"But today, we go further with another great Conservative invention, the National Living Wage.
"We promised in our manifesto to raise the National Living Wage to two thirds of median income – ending low pay in this country.
"At the moment it is £10.42 an hour, and we are waiting for the Low Pay Commission to confirm its recommendation for next year.
"But I confirm today, whatever that recommendation, we will increase it next year to at least £11 an hour."
Ahead of the speech, Prime Minister Rishi Sunak, said: "I've always made it clear that hard work should pay, and today we're providing a well-earned pay rise to millions of people across the country.
Click to subscribe to Politics at Jack and Sam's wherever you get your podcast
"This means a full-time worker will receive an increase of over £1,000 to their annual earnings, putting more money in the pockets of the lowest paid.
"We're sending a clear message to hard-working taxpayers across the country; our Conservative government is on your side".
'Ban on mobile phones in classrooms'
Elsewhere, Education Secretary Gillian Keegan will also give her speech in the conference hall later, where she is expected to say she will ban mobile phones in classrooms.
Speaking to the Daily Mail, a government source said: "Gillian believes that mobile phones pose a serious challenge in terms of distraction, disruptive behaviour, and bullying.
"It is one of the biggest issues that children and teachers have to grapple with so she will set out a way forward to empower teachers to ban mobiles from classrooms."
Many schools already ban pupils using phones, but Ms Keegan wants to outlaw them during lessons and break times.