The family of a British man have said "we don't know what to believe" over the circumstances of his death during a holiday in Vietnam.
Darren Blair was a "happy-go-lucky chappy" who enjoyed sightseeing and had visited 44 countries – but his family in Nottingham said "there have been different stories going around" over the way he died.
The 31-year-old's family were told he had been found unresponsive after being asleep in a nightclub for six hours on 26 September.
But the family were also told he was found unconscious outside the club and his death certificate said he had bruises on his face.
Mr Blair had sent a photo of himself at a bar with his tour guide to his family just hours before his death.
His mother, Margaret Mills, 65, said: "He had a tour guide and the tour guide took him to get a drink and then apparently at 8.30 he said to Darren 'you must go back to the hotel and get yourself washed up, you're tired'.
"Then we heard a story that Darren had gone back out to meet somebody, a young girl or whatever.
"There have been different stories going around. We don't know what to believe.
"We got another story saying he had been laying in the bar for six hours sleeping.
"The police told me they found him outside the bar and he was unconscious. It was two people that found him.
"They phoned the emergency services and that's when they picked Darren up."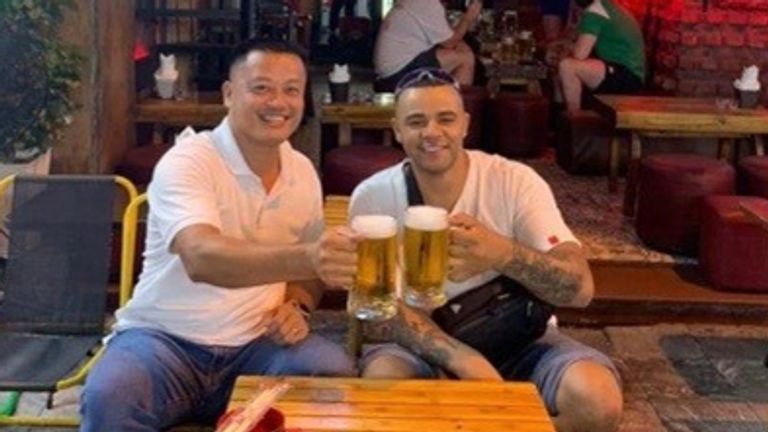 Mr Blair was taken to the Viet Duc Hospital and he was pronounced dead on arrival, his mother said.
He had been on holiday before starting work on a production of Disney On Ice in Vietnam.
Ms Mills added: "He was a happy-go-lucky chappy. He was full of beans and laughter. He was fun.
"He liked his sightseeing. He visited so many countries, it's unbelievable. We counted before he went (that) he had been to 44 countries. He had been all over.
"He loved what he was doing. He has lived his dream, but that has been uncompleted."
'Something is not right'
His niece Jordan Gooderham, 19, said Mr Blair had been found "covered in bruises and has swelling on his face" but the family "literally know nothing" about how he died.
She said: "All we know is that they have been covering something because we have been told four different stories.
"None of it is adding up. It's like a suspicious murder. Something is not right."
Mr Blair's brother and sister are on their way to Vietnam to try to find out what happened to him.