Pro-Palestinian protest organisers have planned a national day of action across the UK – instead of a large march in central London.
The demonstrations will take the form of 100 smaller rallies at various locations around the country.
It comes a week after hundreds of thousands of people took to the streets of the capital in support of Palestine, with calls made for a ceasefire.
On the same day, at least 92 far-right counter-protesters were arrested after ugly scenes near the Cenotaph.
Ben Jamal, director of the Palestine Solidarity Campaign, said today's rallies have been organised to show that "ordinary people" support a ceasefire.
"This Saturday, ordinary people across the UK will come out again to show the vast majority of them support a ceasefire," he said.
"They will show their solidarity with Palestinians who are suffering unimaginable harm.
Police hunt protest march 'offenders'

A spokeswoman for organisers Stop The War Coalition said the localised demonstrations come ahead of a national event planned for next weekend.
"Groups around the country are organising local rallies and marches to basically build for the national demonstration that has been called for next Saturday," she said.
The spokeswoman added that most of the rallies will have speakers, and some will still march.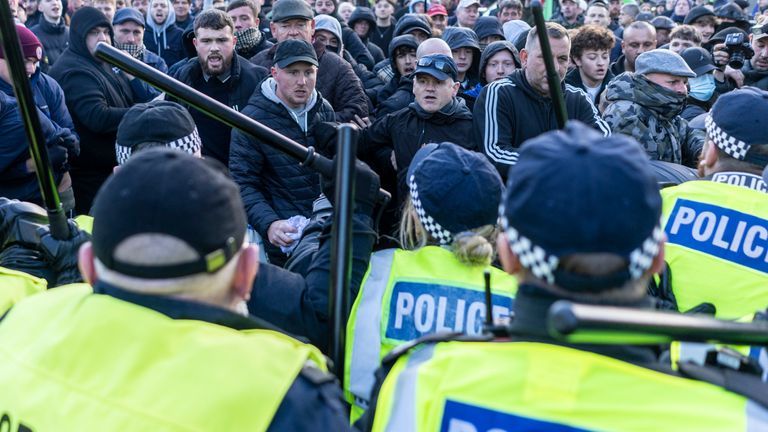 Read more:
Police 'actively looking' for individuals over antisemitic signs at pro-Palestinian march
Why Met Police chief has a firmer grasp on liberal democracy than Suella Braverman
The Metropolitan police has said it will deploy will deploy extra officers in areas with "significant" Jewish and Muslim communities ahead of protests in the capital this weekend.
The force has said it will focus on ensuring events that traditionally occur the week after Remembrance Sunday can take place safely and securely without disruption.